RCS Haven E-Bulletin - November 2016
---
Greetings, and welcome to our bulletin full of information on exciting Russian events.
RCS Haven is welcoming anyone who is interested in studying Russian language, literature and culture. We have English and Russian language lessons. There are a library, Art studio for children and Web-design Studio.
Also, the Centre provides consultations in law, finance and other aspects of work and business in Russia and Britain.
---
NEWS
---
The Russian School in Glasgow in association with RCS Haven invites all to the traditional Russian New Year Party, which has been taking place every year since 2004! Guests who come wearing their carnival costumes are especially welcomed!
The Carnival will include a concert, children's theatre production, craft fair, traditional songs and dancing, games for children and adults, a grand prize for the best carnival costume and refreshments for children.
The songs and events will be mainly in Russian, but with English commentary (as well as many English-speaking people to explain what's going on).
The celebration will take place from 1pm till 4pm on the 17th December at Maryhill Burgh Hall, 10 – 24 Cairbraid Avenue, Glasgow, G20 8YE.
We will have the use of two halls: a larger one for the show and another smaller one for the use of mothers with small children.
Tickets are on sale at the Adelphi Centre every Saturday and during the week at RCS Haven office, 11 Duke Street, G4 0UL, or by phone 0141 552 2144 or email  
[email protected]
---
VACANCIES
---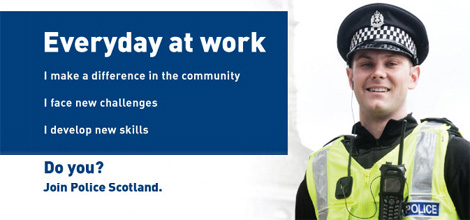 Speak Russian? Thinking of a new career?
Come along to one of  Police Scotland's recruitment events detailed below, where they will detail the recruitment processes and provide you with invaluable advice regarding your application and the selection requirements, along with an insight into the role of a Police Officer.
---
RCS Haven is looking for Mathematics and Russian teachers for the Saturday school.
Also, we are looking for volunteers.
The job search facility on the RCS Haven website collects vacancies from British and Russian employers. It can be accessed by 
clicking here
, 
---
EDUCATION 
---
The S
chool of Russian Centre in Scotland  Haven 
Classes for children are based on Russian teaching methods for primary school level native and non-native speakers.
In the current school year, lessons for all classes except the youngest take place between 11.00 and 2.00pm on Saturdays at 
- 
Adelphi Centre, 12 Commercial Road, Glasgow G5 0PQ. 
[email protected]
---
Art lessons for children are undergoing in RCS Haven.
Under supervision of experienced teachers, a professional artist and a specialist in early development, children study the basics of drawing and painting, language development and drama. All children are welcome on Fridays from 5:30pm till 7:30pm. 
RCS Haven, 11 Duke Street, Glasgow, G4 0UL, Т. 0141 5522144
---
Russian Centre in Scotland Haven, 11 Duke Street, Glasgow, G4 0UL, 
[email protected]
---
---
NOVEMBER EVENTS CALENDAR
---
Events in Glasgow
---
Wednesday - Sunday
Sharmanka are a unique and award-winning theatre group. Their beautifully carved figures perform an incredible dance to haunting music and synchronised light, telling the funny and tragic stories of the human life and spirit. 
103 Trongate, Glasgow G1 5HD. T.: +44 (0)141 5527080
---
5 November, 7.30pm
Join conductor Eivind Gullberg Jensen and pianist Nikolai Lugansky for an evening of music from Rachmaninov, Prokofiev and Liadov. Glasgow Royal Concert Hall, Sauchiehall Street, Glasgow G2 3NY
---
7 November, 13:00–15:00
Glasgow University Russian-Speaking Society will host a videoconference Q&A with Vladimir Zhirinovsky.
V. Zhirinovsky is a Russian politician and leader of the Liberal Democratic Party of Russia. He is a showman of Russian politics, blending populist and nationalist rhetoric, anti-Western invective and a bold style.
Zhirinovsky has stood in four Russia's presidential elections. He led the polls in 1996; and secured the third largest number of votes in 2008.
He will give us a Q&A session on the relationships between Russia and the West. The event is absolutely free of charge and will be held in English.
John McIntyre building 201. Glasgow, G3 8, University of Glasgow.
---
10 November, 17:00–19:00
Glasgow University Russian-Speaking Society will host a videoconference Q&A with Grigory Chkhartishvili better known by his pen name Boris Akunin. He is a Russian writer, translator, scholar, and public activist, and is known for his harsh criticism of the Russian government.
Adam Smith Building 718, University of Glasgow.
---
Events in Edinburgh and the rest of Scotland
---
1 November, 6.00-7.00pm
Dmitrii Likhachev (1906-1999) was a Russian historian and philosopher who was a prisoner in Stalin's Gulag (1928-1932), survived the Siege of Leningrad (1941-1942), and was an enormous influence in the field of Russian history.
He wrote over 500 academic publications on such varied topics as Russian medieval icons to the language of criminals and prisoners.
His books include Laughing World in Old Rus (1976), Reflections of Russian Soul – a Memoir (1981), and About the Intelligentsia (1997). Speakers will include Professor Vera Tolz, a historian and Likhachev's granddaughter.
Princess Dashkova Centre, 14 Buccleuch Place, Edinburgh EH8 9LN
---
3 November, 11.00am
Sparkling Russian/English conversation over tea and cakes.
The group meets on the first Thursday of the month in the Summerhall Cafe (ground floor of the main Summerhall building). 
No charge apart from any drinks and cakes you choose to purchase.
Open to all - no need to book. Just turn up and you will be warmly welcomed by the group. 
For more information please contact  
 0131 560 1486
Summerhall Café, Summerhall, Edinburgh EH9 1PL
---
11 November, 7.30pm
The Georgian group Skotebi (based in Edinburgh) will be performing a concert of songs from the church and folk traditions of the Republic of Georgia. Skotebi - 10 men in love with Georgia and its songs.
Augustine United Church, George IV Bridge, Edinburgh EH1 1EL. T: 07429 336341
---
27 November, 3.00pm
This collaboration between Sergei Eisenstein and Sergei Prokoviev is Eisenstein's first sound films. Some of the film was shot to Prokoviev's music, and some of the music was composed to Eisenstein's footage. The iconic Battle on the Ice has inspired epic movie battles since. Tickets are £10.
Robert Burns Centre, Mill Road, Dumfries DG2 7BE
---
Events in the rest of the UK
---
Every Saturday in November, 11.00am
The Pushkin House will be hosting a programme with storytelling and activities for children up to age 5. Children will learn about the Russian language and traditions through music, dance, games and interactive stories.
This event costs £10 per 1.5 hour for children up to age 3 and £15 per 1.5 hour for children ages 3-5. 
---
1, 4 and 9 November, 7.30pm
The Royal Opera will perform Shostakovich's operatic adaptation of Nikolai Gogol's absurdist short story "The Nose", directed by Barrie Kosky. The opera tells the story of a civil servant, Major Kovalev, who wakes up one morning to discover that his nose has leapt off of his face, and follows his desperate hunt to get it back. This event will also be livestreamed via the
ROH's YouTube channel
on 9 November from 7.25pm.
Royal Opera House, Bow Street, Covent Garden, London WC2E 9DD
Tel: +44 02073 044000
---
2 November, 7.00-8.30pm
Author Simon Ings will discuss his newest book on the history of Soviet science during Stalin's reign. He will be interviewed by journalist and novelist Marcel Theroux.
Copies of Ings' book will be on sale at the event.
Pushkin House, 5a Bloomsbury Square, London WC1A 2TA
Tel: +44 020 7269 9770
---
4 November, 7.30 – 9.00pm
Robert Chandler leads a workshop on translating from Russian to English. Fluent English and a good reading knowledge of Russian is required. All translators, at any stage of their careers, are welcome. Cost is £6 full price, £3 for FOPH, students, and seniors. Pushkin House, 5a Bloomsbury Square, London WC1A 2TA Tel: +44 020 7269 9770
---
6 November, 7pm
Russian rock star is back to London.
Zemfira's concert tour in 2016 called "The little man." Earlier this year, the singer performed this program in twenty cities of Russia. In March the singer announced that the Tour 2016 will be the last large-scale in its creative biography.
The O2 Academy Brixton, 211 Stockwell Rd, London SW9 9SL
---
7 November, 5:30-7pm
This year marks a quarter century since the dissolution of the USSR, an event so momentous that some even argued history itself had come to an end. Twenty-five years later, though, we find ourselves again in the horns of an increasingly violent and seemingly intractable conflict between Russia and 'the West'. What have we learned about Russia - and ourselves - since 1991? What did policymakers and academics alike get right and wrong? And what will Russia look like twenty-five years from now?
King's College London, Strand Building, Room S-1.04, Strand, WC2R 2LS
---
11 - 17 November
The programme of activities explores the life and legacy of the beloved and universal author in UK. Supported by University College London's School of Slavonic and East European Studies (UCL SSEES), Barbican Cinema, The Likhachev Foundation-Cultural Fellowships in Russia, Rossotrudnichestvo in United Kingdom & the Bloomsbury Studio.The Inaugural Dostoevsky Day UK is dedicated toUCL-SSEES colleagues and dear friends: Professor Emeritus Isabel de Madariaga and the Poet Cameron Bain.
---
15 November 12:30 - 15:00
The Parliamentary Lunch will be held in the splendid surroundings of the House of Lords, overlooking the River Thames.
The host on this occasion is Lord Godfrey Cromwell. The guest speaker is Christopher Granville, former British diplomat in Moscow, Managing Director of Trusted Sources - an independent provider of research and consulting on emerging markets.
House of Lords, Parliament Square, Westminster, London SW1A 0PW
---
15 November, 7.30-9.00pm
Andrea Gullotta is a lecturer in Russian at the University of Glasgow.
He will be at the Pushkin House to discuss his new book, Intellectual Life and Literature at Solovki 1923-1930, which describes the cultural history of the camp and analyses the literary works published in the press of the camp up to 1930.
Tickets are £7 full price, £5 for FOPH, students and seniors.
Pushkin House, 5a Bloomsbury Square, London WC1A 2TA
Tel: +44 020 7269 9770
---
30 November, 7.00-8.30pm
This concert will celebrate the 150th anniversary of the Moscow Conservatory, founded in 1866 by Nikolai Rubinstein. It will focus on Tchaikovsky and Rachmaninov, both alumni of the Conservatory. Tickets are £20 full price, £16 for FOPH, students and seniors.
Pushkin House, 5a Bloomsbury Square, London WC1A 2TA
Tel: +44 020 7269 9770
---
CONTACT US
---
Thank you for reading this bulletin; we hope you have found it interesting, useful and enjoyable. If you have any news or events that you would like us to highlight in future editions, please contact us at the address below.
t. +44 (0)141 552 2144 e-mail - 
[email protected]