| | |
| --- | --- |
| RCS Haven E-Bulletin - November 2018 | |
---
Greetings, and welcome to our bulletin full of information on exciting Russian events. 
RCS Haven is welcoming anyone who is interested in studying Russian language, literature and culture. We have English and Russian language lessons. There are a library, Art studio for children and Science club.
Also, the Centre provides consultations in law, finance and other aspects of work and business in Russia and Britain.
NEWS
---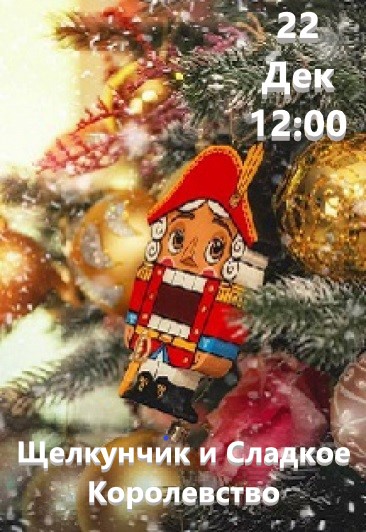 A famously beautiful story with lively characters and music you've known since childhood is the perfect way to get yourself in the festive mood in the run-up to Christmas and New Year.
The show will take place on Saturday 22nd December, from 12 noon to 2pm at Partick Burgh Hall, 9 Burgh Hall St, Glasgow, G11 5LW.
"The Nutcracker and the Sweet Kingdom" is produced and performed by students from all of our classes. 
Alongside the performance, there will also be cakes and refreshments, a craft fair with goods made by the students, traditional dancing and games and competitions for adults and kids.
We have access to two halls - a large one for the performance and another for parents with small children to relax.
The event is in Russian, but the programme will have commentary and explanation in English.
Ticket Prices
Children studying at RCS: £10 (Includes a Christmas gift, entry to the tea party and free entry for one accompanying adult)
Children studying at RCS (no gift): £3 (No gift included, includes free entry for one accompanying adult)
Children not studying at RCS: £12 (Includes a Christmas gift, entry to the tea party), Adults: £5
Tickets are available from the Adelphi Centre café at the school from 11am to 2pm on Saturdays, by telephone on 0141 5522144 or by email at [email protected]
If you have any questions about tickets, please contact Olga Mirenskaya and Svetlana Vilgotskaya, our parents' committee representatives.
We look forward to seeing you all!
---
VACANCIES
---
Police Scotland continues to encourage members of ethnic minorities to apply for the job and once again refers to the Russian-speaking community.
---
RCS Haven is looking for Russian and Chess teachers for the Saturday school.
Also, we are looking for volunteers.
The job search facility on the RCS Haven website collects vacancies from British and Russian employers. It can be accessed by 
clicking here
, 
---
EDUCATION 
---
The S
chool of Russian Centre in Scotland  Haven 
Classes for children are based on Russian teaching methods for primary school level native and non-native speakers.
In the current school year, lessons for all classes except the youngest take place between 11.00 and 2.00pm on Saturdays at 
- 
Adelphi Centre, 12 Commercial Road, Glasgow G5 0PQ. 
[email protected]
---
Russian classes for tests and exams 
RCS Haven prepares students for taking tests and exams in the Russian language, and also conducts / organizes tests and exams: Russian for Life and Work Level 3 and level 4 (reg. No: SQA 3014177), and GCSE  и GCE A Level in Russian (reg. No: EDEXCEL - 70233).  Classes take place on Saturdays from 11.00. to 14.00 at Adelphi Centre, 12 Commercial Road, Glasgow G5 0PQ. 
[email protected]
---
Art lessons for children are undergoing in RCS Haven.
Under supervision of experienced teachers and a specialist in early development, children study the basics of drawing and painting, language development, drama, science and math. All children are welcome.
Art studio takes place on Fridays 17:30 - 19:30.
Science club takes place on Wednesdays, 17:00 - 19:00 at 
RCS Haven, 11 Duke Street, Glasgow, G4 0UL, Т. 0141 5522144
---
Russian and English language courses for adults
Classes for those who want to study Russian and English language.
Russian lessons on Mondays at Beginners from 18.00 to 19.30; Advanced from 19.30 to 20.30, Intermedia group on Wednesdays from 19.00. to 20.30 (11 Duke Street) and Saturdays at 11.00 (Adelphi Centre).
English lessons on Thursdays from 19.00 to 20.00
Russian Centre in Scotland Haven, 11 Duke Street, Glasgow, G4 0UL,    
[email protected]
---
NOVEMBER EVENTS CALENDAR
---
Events in Scotland
---
Wednesday - Sunday
Sharmanka are a unique and award-winning theatre group. Their beautifully carved figures perform an incredible dance to haunting music and synchronised light, telling the funny and tragic stories of the human life and spirit. 
103 Trongate, Glasgow G1 5HD. T.: +44 (0)141 5527080  
---
1 November, 11:00
Café de la Poste. Sparkling Russian/English conversation over tea and cakes. The group meets on the first Thursday of the month.  No charge apart from any drinks and cakes you choose to purchase.
Open to all - no need to book. 
Just turn up and you will be warmly welcomed by the group. For more information please contact   
[email protected]
  Tel. 0131 560 1486.
---
1 November, 19:00
Hosted by Glasgow University Russian-Speaking Society
Dima Nikitin is an ordinary honest plumber who suddenly decides to face the corrupt system of local politics in order to save the lives of 800 inhabitants of an old dormitory, which is about to collapse.
University of Glasgow - St Andrew's Building, Room 101, 11 Eldon Street, G3 6NH Glasgow
---
8 November, 17.15
Soviet Sign Language and Deaf Internationalism during the Cold War
Claire Shaw, Assistant Professor in the History of Modern Russia at the University of Warwick, explores the issue of miscommunication in Cold War politics by looking at Soviet participation in the World Federation of the Deaf (WFD).
Princess Dashkova Russian Centre, 19 Buccleuch Place, Edinburgh, EH8 9LN
---
8 -10 November
Thomas Søndergård Conductor
Music is life – and life always finds a way. Poulenc's Gloria is a celebration – an exuberant shout of joy from a composer who'd seen the best and worst of the 20th century. It's the inspiring finish to a concert that features two irresistible Russian masterpieces by Prokofiev and Tchaikovsky (with the brilliant Alexander Gavrylyuk as soloist), but also, at its heart, a new piece from Ken Johnston as we commemorate the anniversary of WWI, featuring the superb young singers of Glasgow Cambiata.
---
11 November, 14.00
Author Anastasia Strokina talks about the creative process, becoming an author, and using Northern and ecological themes in her writing, and awards prizes to the winners of the knigu.ru book competition. NB This event is in Russian.
Princess Dashkova Russian Centre, 19 Buccleuch Place, Edinburgh, EH8 9LN
---
13 November, 18:30
Join authors Oliver Bullough and Elisabeth Schimpfössl in a discussion about the world's super rich, with a focus on Russia's oligarchs, and the UK's role in benefiting from their activities.
Oliver Bullough Author of 'Moneyland' and Elisabeth Schimpfössl Author of 'Rich Russians'; Aston University
This event is jointly hosted with the Scotland Russia Forum.
Auditorium, University of Edinburgh Business School, 29 Buccleuch Place, Edinburgh, EH8 9JS
---
14 November, 16:00
This is the story of wealth and power in the 21st century. It isn't too late to change it.
A talk by Oliver Bullough on his new book "Moneyland", publ. Profile Books 2018.
Moneyland tells the story of how the world's super-rich have broken free of democratic control, and formed their own nomadic global community. It looks at tax evasion and illicit financial networks, much achieved through the "offshore" economy of tax havens, shell companies and legal blind spots, much of which has benefitted the City of London.
Boyd Orr building (Room 611), University of Glasgow, Ashton Lane, Glasgow G12 8QR.
More information: Huseyn Aliyev, University of Glasgow Central and East European Studies, 
[email protected]
---
15 November, 18:15
The Voskresenije Choir, all internationally trained at the world class St. Petersburg Conservatoire and conducted by musical director Jurij Maruk, plan a programme in two parts: the first half concentrates on Russian sacred music including works by Rachmaninov, and, in the second, Russian folk songs, allowing each of the performers to perform a solo.
This is an event not to be missed with many marvellous voices, including Anatoliy Artamonov who is an "octave" singer, reaching as low as a G Contra Octave (49.00HZ).
Anderston Kelvingrove Parish Church, 759 Argyle Street, Glasgow, G3 8DS
---
28 November, 18.30
Film and discussion with James Rann, University of Glasgow
Alexander Shein's much-discussed film about Mayakovsky, shown as part of our Russian Film Week Scotland
Screening Room, School of Languages, Literatures and Cultures, 50 George Square, EH8 9JU
---
29 November, 18.30
Experience the extraordinary life of Princess Ekaterina Dashkova in a costumed extravaganza of eighteenth-century gossip, politics, poetry, and music.
St Cecilia's Hall, Sypert Concert Room, 50 Niddry Street, Edinburgh, EH1 1LG
---
30 November, 18.30
Renowned director Avdotya Smirnova's film based on real events involving Leo Tolstoy, about the complexity of choice and commitment to one's ideals. Shown as part of our Russian Film Week Scotland.
Shown in Russian with English subtitles
Screening Room, School of Languages, Literatures and Cultures, 50 George Square, EH8 9JU
---
Thank you for reading this bulletin; we hope you have found it interesting, useful and enjoyable. If you have any news or events that you would like us to highlight in future editions, please contact us at the address below.
t. +44 (0)141 552 2144 e-mail - 
[email protected]